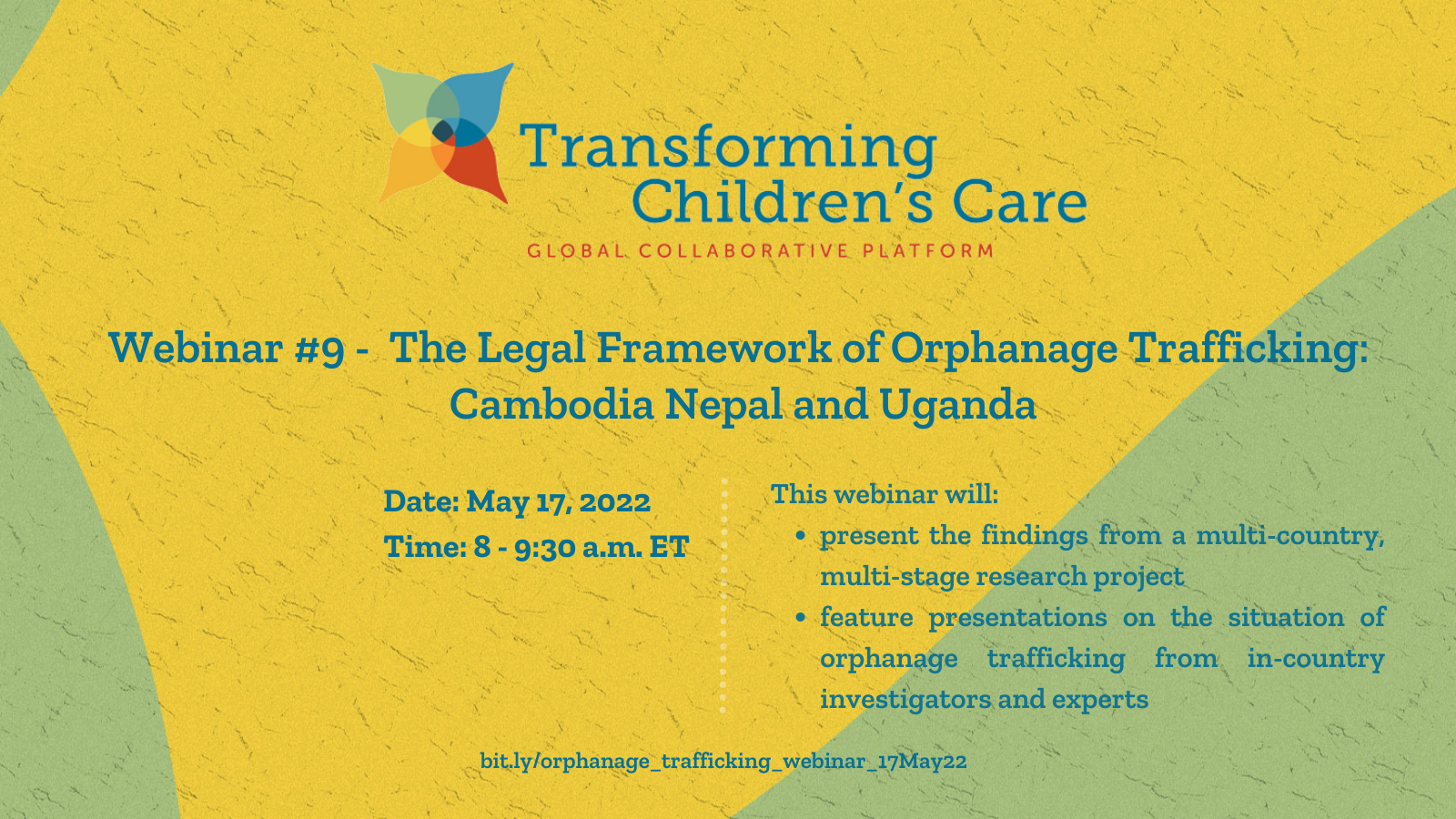 Time: 08:00 - 9:30 am in Eastern Time (US and Canada)
Orphanage trafficking involves the recruitment and/or transfer of children to residential care institutions for a purpose of exploitation and profit. It typically takes place in lower- and middle-income countries where child protection services systems are highly privatized, under-regulated, and primarily funded by overseas sources. Orphanage trafficking crimes are poorly understood, often go undetected and are rarely prosecuted- even in countries where its occurrence has been well documented.
To enhance the identification, prosecution, and prevention of orphanage trafficking, Griffith University, UBS and BCN partnered on a multi-country, multi-stage research project to examine the legal frameworks of orphanage trafficking in Cambodia, Uganda, and Nepal. This research aims to analyze the current legal, policy and procedural frameworks under domestic law in all three focal countries and under international law and to better understand how cases indicative of orphanage trafficking are detected and treated by law enforcement.
This webinar will present the findings from the stage one analysis of the legal, policy and procedural frameworks. It will also feature presentations on the situation of orphanage trafficking from in-country investigators and experts.
---
Speakers:
Rebecca Nhep
Senior Technical Advisor @Better Care Network
Rebecca Nhep is the Senior Technical Advisor for the Better Care Network and has 21 years experience working in the international development and care reform sectors. Her focus is on transitioning residential care institutions and curtailing drivers of institutionalisation including orphanage tourism and foreign funding. Rebecca is also the co-founder and co-chair of ReThink Orphanages Australia and co-convenor of the Australian Council for International Development's Child Rights Community of Practice.
Dr Kate van Doore
Academic @Griffith Law School & Law Futures Centre
Dr Kate van Doore is an international child rights lawyer and an academic at Griffith Law School, Australia. Kate researches the intersections of child rights, institutionalisation and human trafficking. She works with governments, NGO's and companies on their approaches and responses to orphanage tourism and trafficking.
Anju Pun
Country Director @Forget Me Not, Nepal
Anju Pun is a child rights and care reform advocate and is the Nepal Country Director at Forget Me Not Australia. Anju has been working with children, women, socially excluded and marginalised communities and for their human rights in Nepal for almost 20 years including time with ActionAid Nepal, the United Nations Development Programme, and the United Nations Office on Drugs and Crime. Her current work is focused on the prevention of unnecessary family separation, child protection, anti-slavery, care reform and deinstitutionalisation, and family reunification and reintegration, including for children with disabilities and children on the move.
Sinet Chan
@Kmeng Onga Care Leavers Network, Cambodia
Sinet Chan is a care-leaver activist, script-writer and director on the board of Cambodian Children's trust (CCT). Sinet's story has garnered international media attention which led to an invitation to testify at the Australian Parliamentary Inquiry into Modern Slavery in 2017 on the issue of orphanage trafficking and the exploitation of children in institutional care settings. Sinet is an experienced and passionate spokesperson for care experienced young people and advocate speaking up against the harms of institutional care for children and the perils of orphanage tourism.
Noeut Dy
Executive Director @Chab Dai Coalition Cambodia
Britta Holmberg
Deputy Secretary General & Program Director @World Childhood Foundation
Britta Holmberg is the Deputy Secretary General and Program Director at World Childhood Foundation where she oversees the work to prevent abuse and sexual exploitation of children in thirteen countries. She has a Master´s degree in Child and Youth Science and has more than 20 years experience in the field of alternative care.
Professor Mary Keyes
Director, Law Futures Centre @Griffith University
Professor Mary Keyes is the Director of the Law Futures Centre, Griffith's research centre for law. She is particularly interested in the areas of jurisdiction and international family law. Professor Keyes was a member of the Experts' Group on Family Agreements Involving Children (2013-2022), and is a member of the Working Group on Jurisdiction, at the Hague Conference on Private International Law. She is the Review Articles editor and a member of the editorial board of the Journal of Private International Law. She gave a special course on The Intentions of the Parties at the Hague Academy of International Law in its summer program in 2021.
Barma Budha Magar
@Shine Together, Care Experienced Network Nepal (CENN)
Barma Budha Magar is partially visually impaired and Care Experienced from Nepal with a lived experience of over 9 years in child care institutions. Currently, she is pursuing her Bachelor's degree in Social Work. She is an active member of Shine Together - Care Experienced Network Nepal. Barma is also a Change Agent and has more than 3 years of working experience in the community to advocate on keeping families together and raise awareness on the harms of institutionalization through her stories. In 2019, Barma shared her story with government authorities in Chitwan district and urged the government bodies to support the most vulnerable families so that children do not end up in institutions. She was also one of the speakers for the global conference of BICON 2021 representing the stories of care leavers in Nepal. Barma strongly advocates for the rights of children with disability as she believes that there should be more opportunities for children with disability in communities.