Transforming Children's Care Collaborative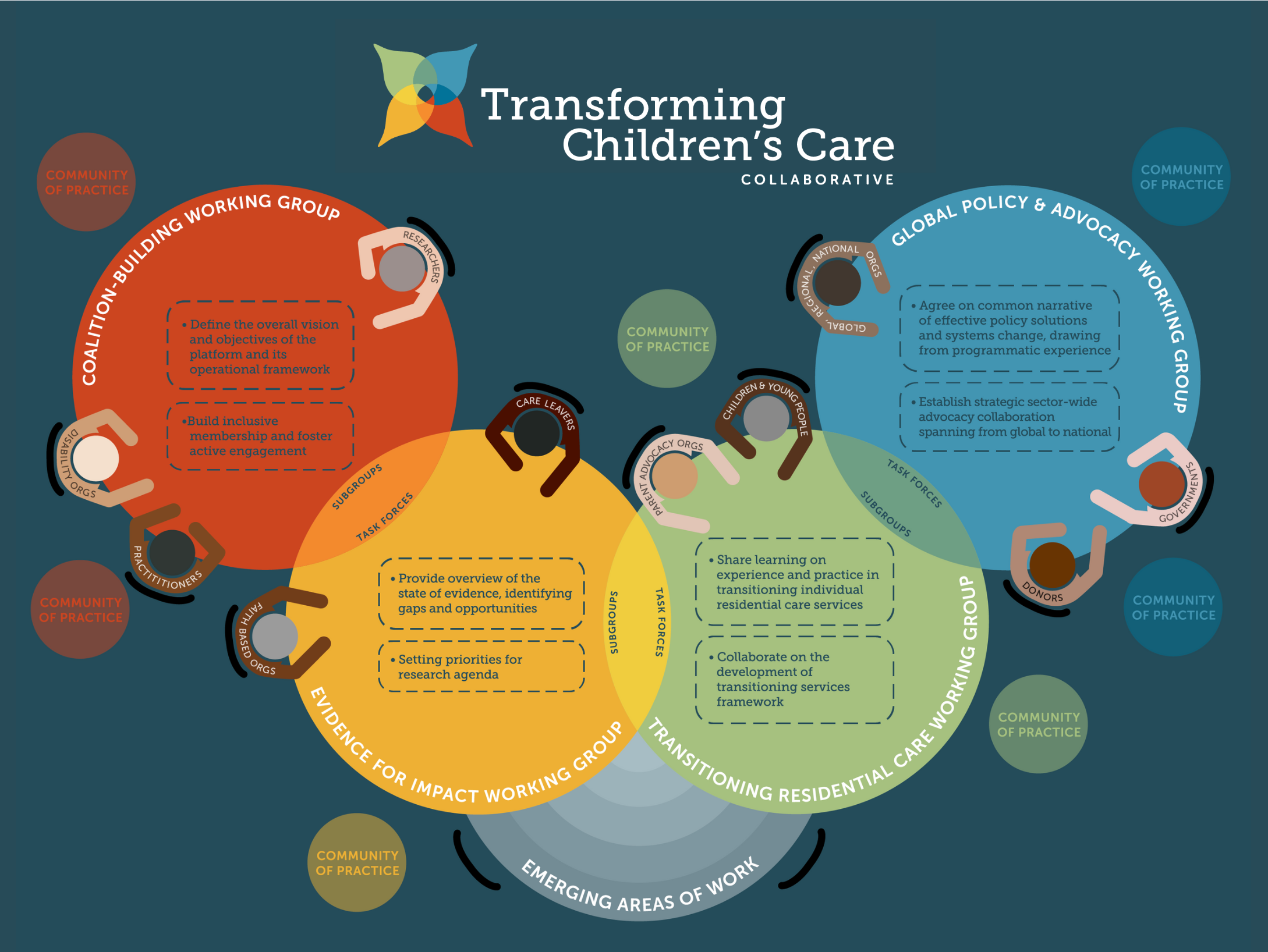 Building on joint efforts advocating for the 2019 UNGA Resolution and the Key Recommendations, and clear interest expressed by a broad group of actors to strengthen sectoral cooperation and collaboration, Better Care Network together with partners established the Transforming Children's Care Collaborative. The Collaborative aims to establish more strategic sector-wide collaboration spanning the global to the local level and inclusive of a wider range of stakeholders. It aims to enable organisations engaged in child protection and care reform to agree on common principles and approaches, leverage and build on one another's work, secure greater and more sustainable impact, contribute to a shared learning agenda and undertake joint advocacy. 
The Collaborative is open to all actors involved in children's care, with active participation of self advocates (care leavers; parent advocates); disability organizations; faith-based organizations; local organizations/CBOs and other relevant communities and sectors. 
There are a number of exciting opportunities for you to immediately get involved in shaping the Collaborative. 
Thus far, a number of Working Groups have been created, including:
Coalition-Building Working Group: This broad and inclusive working group has been established for the interim development phase of the platform. The group will be responsible for: defining the vision and objective for the platform; establishing guidelines for inclusive membership; setting up ways of working and procedures; developing a transitional governance structure and expanding the platform's membership through outreach into different segments of the care sector. 

Evidence for Impact Working Group: This group aims to bring together researchers, measurement experts and practitioners working on establishing data systems on children's care to foster a strategic and well-coordinated approach to research and data in the sector, with a focus on generating and applying 'evidence for impact' on policy, systems and practice globally. 

Transitioning Residential Care Working Group: This group brings together existing initiatives and discussions around different aspects of transitioning residential care services. The working group is currently collaborating on the development of an open source transitioning services framework to guide future collaboration and is open to organisations and practitioners with direct experience and involvement in transitioning individual residential care services. 

Global Policy and Advocacy Working Group: This working group aims to bring together a range of advocacy initiatives to support the implementation of global commitments towards children's care and child protection and care systems reform. It builds on advocacy efforts behind the 2019 UNGA Rights of the Child resolution, and on the Key Recommendations to strengthen consensus and address key areas of policy disagreement to enable more effective advocacy at global, regional, and national levels, with concrete examples and evidence from diverse settings. 

Other Working Groups: Members of the Collaborative are invited to suggest a topic for a future working group or subgroup and/or identify an issue or gap that needs to be addressed through the collaborative platform. New working groups and subgroups will be established as need and interest are identified by members and information shared with the wider group via email.