Time: 1:00 PM EDT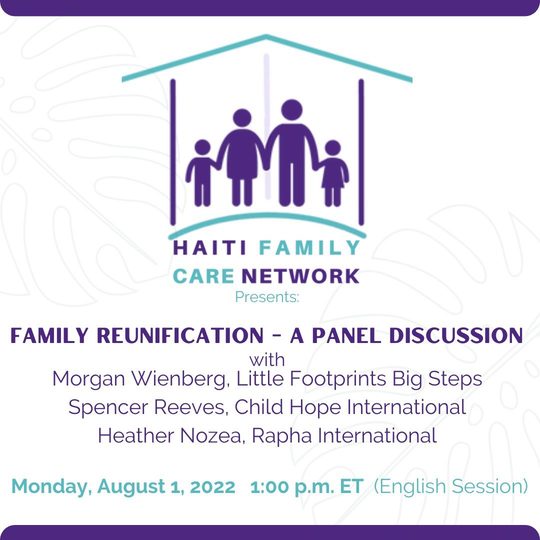 Join our upcoming workshop for a panel discussion about Family Reunification! Learn more about the methodology of family reunification and what best practices within that process look like. Discover what challenges come up when striving to reconnect separated children with their families and ways to overcome those challenges.
Family reunification is a challenging yet deeply impactful process, and applying best practices while doing so is critical to supporting children who've been separated from their families. As awareness about the damage of family separation increases globally, organizations in Haiti and across the world are becoming involved in the reunification of children who have been separated for a multitude of reasons, including living in orphanages, in the streets, as restaveks or other child slavery situtations, incarceration, trafficking, abandonment, or loss.
Haiti Family Care Network has prepared two workshop sessions on Family Reunification (August 1 and August 5), featuring panelists from three different organizations who have diverse experiences facilitating family reunification in different parts of Haiti.
RSVP today for the English, Creole, or both panel discussions!