National Director/Stakeholder Relations Advisor
"We learn to be flexible and creative when working directly with clients. As a practitioner, we have to be willing to try new things and explore new possibilities."
Image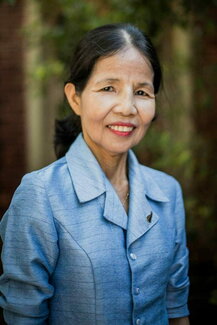 Background Information
Associate degree in Accounting 
Diploma in pedagogy and technical education extension 
Training completed on child safe, advance counseling, administration, labor law, financial sustainability, parenting, child rights, governance, people care, project planning and design, child wellbeing and protection, practical social work skills, play and creative therapies, trauma informed parenting, computing, reconciliation and leadership development 
Our Interview With Practitioner
What are the most important things you've learned from this work?
What works:
Train families and share knowledge and provide extra consultation on parenting to families 

Find suitable families for abandoned children 

Domestic adoption provides legal identity and stability for children 
Why does it work?
The transfer of knowledge helps provide wider knowledge to stakeholders. 

Needs assessment is always key to identifying and responding to the needs and type of support a family and child may need 
What doesn't work?
Slow/stagnant progress of collaboration with the judges which has push for more relationship building 

Collect information and reflect on the learning in order to explore the best and relevant way to meet the needs of family/child 
What are the two most helpful resources or tools in your work?
Data collection is key especially on clients to inform sound judgement/conclusion of the case 

Communication is essential which enhances the influence and impact of the work 

Domestic adoption process and experience can be shared with others 
What are the best approaches for supporting families?
Key Areas of Work
Adoption
,
Family Strengthening/Family Preservation
and
Family-Based Alternative Care
Practitioner Resources
In this video Children in Families social workers share their experience of using a cluster model to enhance the social support available to foster carers in Cambodia whilst reducing the demands placed on organisational resources.
This report presents a needs assessment which provides a summary of the situation of children with disabilities who are living in residential care institutions and in communities in Cambodia and proposes seven key recommendations and relevant concrete actions for the short, medium and long term to improve the quality of care of children with disabilities living in institutions and to ensure that they have better access to basic services and are living in a protective environment.