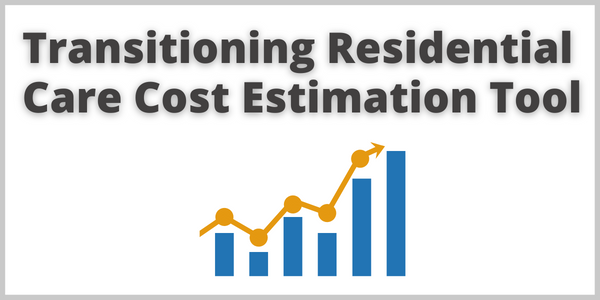 This webinar, hosted by the Transitioning Residential Care Working Group, was the launch event for the recently released Transition Cost Estimation Tool. This digital tool is one of three tools that comprise the Transition Framework Tools. It supports practitioners and organisations running or funding residential care facilities to estimate the cost implications of transition, including potential spikes it cost, and reductions in costs, over the phases of transition. In a step-by-step manner it allows users to input their own data, provides averages across cost categories which users can interact with to increase or decrease estimates, and generates an phase by phase and overall estimate using algorithms developed through analyzing budget data provided by organisations who have already completed their transition.
The cost estimation is then plotted over the phases of transition diagram, allowing users to anticipate when spikes may occur and to what level. Users can access a PDF version of their estimate upon completion.
The purpose of this webinar was to launch the tool, provide background information on its development, the analysis that underpins it, and conduct a virtual walk through of the tool. In addition, two panelists from the Transition Working Group shared learning of the cost implications of transition from their own experience, including how they identified and managed spike costs in order to implement a safe and effective transition. Visit the transition hub and explore more tools at: https://bettercarenetwork.org/practitioner-library/care-reform/resident…
---
Este seminario web, organizado por el Grupo de Trabajo de Cuidado Residencial en Transición, fue el evento de lanzamiento de la Herramienta de Estimación de Costos de Transición lanzada recientemente. Esta herramienta digital es una de las tres herramientas que componen las Herramientas del Marco de Transición. Apoya a los profesionales y organizaciones que administran o financian centros de atención residencial para estimar las implicaciones de costos de la transición, incluidos los posibles picos y reducciones de costos durante las fases de la transición. Paso a paso, permite a los usuarios ingresar sus propios datos, proporciona promedios entre categorías de costos con los que los usuarios pueden interactuar para aumentar o disminuir las estimaciones, y genera una estimación general y fase por fase utilizando algoritmos desarrollados mediante el análisis de los datos presupuestarios proporcionados. por organizaciones que ya han completado su transición. Luego, la estimación de costos se traza sobre las fases del diagrama de transición, lo que permite a los usuarios anticipar cuándo pueden ocurrir picos y en qué nivel.
Los usuarios pueden acceder a una versión en PDF de su presupuesto al finalizar. El propósito de este seminario web fue lanzar la herramienta, proporcionar información de antecedentes sobre su desarrollo, el análisis que la sustenta y realizar un recorrido virtual por la herramienta.
Además, dos panelistas del Grupo de Trabajo de Transición compartieron el aprendizaje de las implicaciones de costos de la transición a partir de su propia experiencia, incluida la forma en que identificaron y manejaron los costos máximos para implementar una transición segura y efectiva. Visite el centro de transición y explore más herramientas en: https://bettercarenetwork.org/practitioner-library/care-reform/resident…